BIG FUN PIANO
Kids learn to play fun, familiar songs interactively. Wacky piano sounds, musical notation displays, easy-to-use play and record, different backgrounds and three difficulty levels.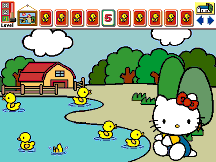 BIG FUN SHAPES AND NUMBERS
Animated Hello Kitty teaches color and shape recognition, introduces arithmetic, counting and adding in real world examples. Endless scene variety and 3 levels of difficulty.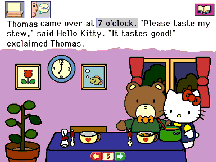 BIG FUN STORYMAKING
Interactive stories help kids learn word recognition and reading while they create their own stories. Reads and highlights each word, prints pages, uses stamps to teach sight words. Introduces time concepts, cause &amp effect, sharing &amp safety. Magic toy room comes alive!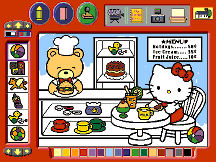 BIG FUN ART
Children create and print their own coloring book pages. Start with pre-created pages or a blank canvas and customize with 225 stamps, crayons, and eraser. Projector lets kids create slide show/animation. Easy one button printing.