W H Y

W O R R Y ?
M A K E

W O R R Y

D O L L S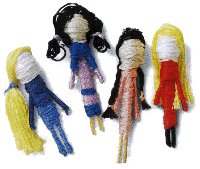 Worry dolls are used in Central America by children. According to legend, children tell one worry to each doll when they go to bed at night and place the dolls under their pillow. By morning the dolls have taken the worries away!
1 )
Wind colorful embroidery floss or yarn around toothpicks for these colorful creations. Wind each arm and leg first. A touch of extra tacky glue or paste holds the ends of the embroidery floss in place.
2 )
A small wad of paper separates the legs and forms the base of the head.
3 )
Attach arms and legs to the body of the doll with some more twists of your colorful thread.


Make an entire set each with different "costumes." Attach a small doll to the top of a package, to a barrette, clip, or to a safety pin. The perfect accent for your hair, coat, or sweater. Also makes a perfect gift for friends and family!
---
All Content Copyright © 1995 Big Top Productions, L.P. All Rights Reserved.