S K I P

K N I E R I M
Technical Customer Support Manager
Education
Cal State University, Sacramento
B.S.(you can say that again) degree in Marketing
Focus of Study
I was trying to create my own Advertising degree, a Business major with a concentration on Communications/Art. While there, I also partook in local athletics and the concerts/entertainment committee.
5 Things Most Cherished
1.) All kinds of outdoor sports and activities
2.) Recording & performing music (on guitar & bass)
3.) Attending concerts
4.) Drawing and painting
5.) Doing voiceovers

Personal Goal(s) in Life
To win the lottery; what else? No, actually, they are:
a) to get married and cultivate a harmonious relationship into a family.
b) to have one of my brother's and my songs "make it" to the top of the charts, and then donate some of the proceeds to needy causes.
c) to always have friends and relatives around.
Favorite Quote
"A relationship is like a shark...it has to keep moving forward or it dies. So I think basically what we've got here is a dead shark". -- Woody Allen, from ANNIE HALL
Interesting Fact
I was in a TV commercial at the age of 13. I got the acting bug and have been hamming it up ever since.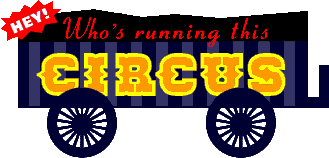 ---
All Content Copyright © 1995,1996 Big Top Productions, L.P. All Rights Reserved.