G U S T A V O

A L C A N T A R
Sr. Graphic / Web Designer
Big Top Role
Senior graphic designer and head of the Slackin Dept. I do web design.

Education
Sacred Heart Prep for heaven in SF
(936 Sundays of Catholic Mass!!!!!)
California Polytechnic State University at San Luis Obispo
(Cal Poly-SLO)

Focus of Study
B.S. in Applied Arts and Design, 1992.
Also participated in lab experiments studying the effects of poverty and sleep deprivation for 5 years.

5 Things Most Cherished
This month: Things that start with the letter "M":
1.) May
2.) Mom
3.) Mambo
4.) Mexico (where I'll be for 12 days)
5.) Moneyfree existence
Next month: The letter N
Personal Goal(s) in Life
Travel the globe without working a lick.
Favorite Quote
"Its the Funk that gives it the Flava" -- Julia Childs
Interesting Fact
Just because I'm a Gemini born on Friday the 13th during the Summer of Love in The City doesn't mean I'm a schizopsychohippiefreak, although I am.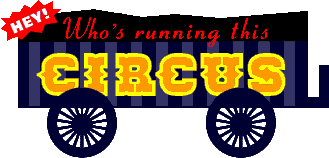 ---
All Content Copyright © 1995,1996 Big Top Productions, L.P. All Rights Reserved.