E R I C A

E U S E B I O
Communications Manager
Education
Sacramento State
Mills College
Focus of Study
Literature, art history (favorite? medieval manuscripts), and writing (philosophical and expository).
5 Things Most Cherished
1.) Boyfriend Taz (short for Tazewell)
2.) My 3 cats (does that count as one?)
3.) Meeting people different than myself
4.) Dead show "drum circles"
5.) Travel
6.) Issue debate
Personal Goal(s) in Life
To donate as much of my time to non-profits as her personal budget allows.
Favorite Quote
"I would rather be a superb meteor, every atom of me in magnificent glow, than a sleepy and permanent planet. The proper function of [woman] is to live, not to exist...I shall use my time." -- Jack London
Interesting Factoid
I grew up on a small farm milking goats, raising sheep, chickens and rabbits and had 8 cats at one time.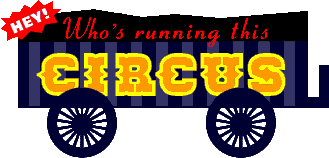 ---
All Content Copyright © 1995,1996 Big Top Productions, L.P. All Rights Reserved.